ADEPT Autumn Conference
As a result of Covid-19 guidance changes, we have taken the decision to convert the ADEPT Autumn Conference into an entirely virtual event.
Place Directors and their strategic partners have a key role in driving and supporting places to recover and renew from the COVID-19 pandemic. The ADEPT Autumn Conference will give time and space for reflection.
There are lessons to be learnt from the crisis, including looking at a new approach to commuting and working from home, how effectively we have responded to a long-term emergency, how we deal with the largest economic crisis since the Great Depression, and what does it all mean for tackling climate change?
As well as reflecting on the lessons learnt, we will consider and develop our strategies to drive the recovery and renewal of our localities.
Two themes will underpin the conference – tackling climate change and meeting the funding challenge – which will be reflected in the plenary sessions. You can see the revised conference programme here.
We have secured fantastic speakers from DfT, the Behavioural Insights Team, EY, University of Oxford, Institute of Place Management, Odgers Berndtson, MHCLG, MIND and Confederation of Passenger Transport.
Question Time: Resilient Economy
As with the BBC programme, delegates are asked to submit questions in advance of the conference.
Place directors are key to driving the clean and green recovery and renewal of the economy in their places, working in partnership with local businesses and communities. Our initial economic analysis highlighted that the pandemic is affecting local economies differently as a result of their sector, business and workforce composition and capacity. A locality focus is necessary to achieve local recovery and renewal, and having a sound evidence base is critical. And as we prepare for the reality of further localised outbreaks of Covid-19, what are the challenges being faced by local authorities across each phase of a local lockdown (i.e. data, partners, residents, businesses) and the levers available to support prompt recovery?
Our panel includes speakers drawn from the private sector, a LEP, academia, careers education and local government. What issues would you like them to discuss?
Please submit your question to Hannah Bartram, Chief Operating Officer for ADEPT via [email protected] no later than 27th October.
Unfortunately the shift to a virtual conference means we are unable to host the Annual President's Awards dinner as part of the Autumn Conference. However, all entries will be carried over to the Annual Dinner scheduled for Thursday 27th May 2021. Entrance to the awards remains open. You can find out more information and download an entry form here.
Book your place at the conference here.
 Live Labs Virtual Expo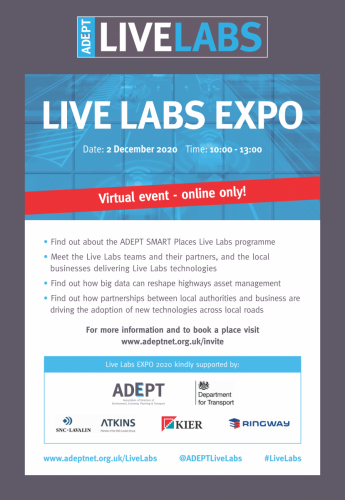 The Live Labs Expo has now been confirmed as a virtual event and will take place on Wednesday 2 December. 10:00-13:00.
Ahead of Live Labs Expo 2021, this virtual event offers the opportunity to find out more about our Live Labs Programmes.
Get to know our Live Labs teams and projects in more detail

Explore innovation from a non-highways perspective

Get the SME perspective via Pechakucha; a succinct, informal, image-based presentation
Many thanks to our Live Labs partners, Atkins, Kier and Ringway for supporting this event.
Attendance to the virtual event is free of charge - you can book your place here. A draft agenda (subject to change) is available here.
For more information on the programme follow us on Twitter @ADEPTLiveLabs or visit the Live Labs blog
The live event will take place on 9 June 2021 at Derby County FC, Pride Park, Derby.
If you would like to find out about sponsorship and exhibiting opportunities please email Helen at the Secretariat ([email protected]).