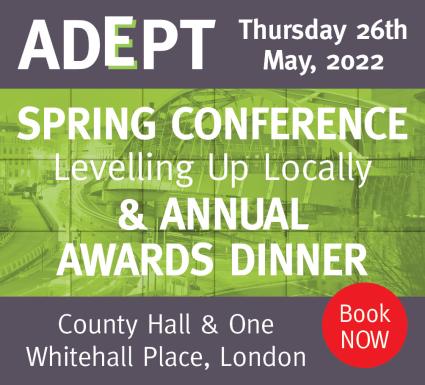 ADEPT Spring Conference and Annual President's Awards Dinner 
Thursday 26th May 2022
County Hall and One Whitehall Place
The Spring Conference offers ADEPT members the opportunity to get together and take stock, to recognise our achievements and to gear up for the challenges ahead. A key theme for this year's conference is the levelling up agenda. For ADEPT, levelling up is three dimensional – economic, social and environmental – and these play out in a place-based context. Levelling up means raising outcomes across all three dimensions, particularly for those currently most disadvantaged, to give greater equality within and between places. It's not just about more and better jobs, improved educational attainment, less crime, reduced health inequalities – vital though these are – but also access to green space and countryside, protecting and improving nature, working towards net zero, and adapting to the existing local impacts of climate change. We have invited some exciting and thought-provoking speakers to generate debate and start a conversation about how to level up locally. The confirmed programme is here.
The conference ends with the new President being sworn in.
Tickets
ADEPT Members Spring conference & Awards Dinner £240+VAT
ADEPT Members Spring Conference only £160+VAT
ADEPT Members Awards Dinner only £125+VAT
To celebrate our successes, to welcome in the new President, and say thanks to the outgoing President, the day concludes with the Annual Dinner and President's Awards. You can find out more about the awards here.
Corporate Partners will be contacted separately.
---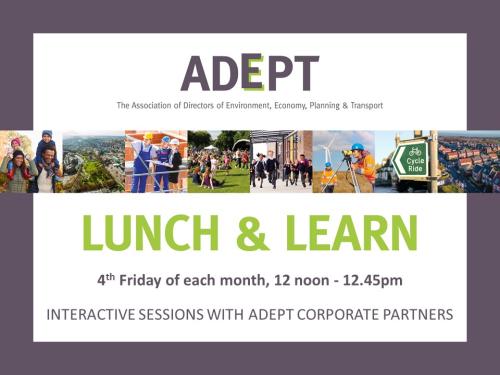 Lunch & Learn
Lunch & Learn sessions take place on the 4th Friday of each month 12pm-12.45pm. Each Lunch & Learn is hosted by one of ADEPT's corporate partners. Get to know our members and partners better and learn about new innovations and opportunities. 
These sessions are for ADEPT members only. Please register using the link below - non-members will not be admitted.  
Friday 6th May: Lunch & Learn with Stantec - CHANGE OF DATE
Enabling the electric transport revolution to deliver inclusive growth

There is an increasing socio-economic divide between those who can and those who can't afford to adopt green lifestyles. This is not being factored into decision making for the provision of infrastructure for electric vehicles in our towns and cities.

Providing infrastructure for electric vehicles needs to look beyond just installing charging points. Jonny Riggall, Climate Practice Leader, and Kate Jack, Smart Mobility Sector Leader at Stantec will explore how municipal investments into the whole system of infrastructure can enable all of society access cleaner modes of travel.
---
SAVE THE DATE!
Lunch & Learn with Kier
Friday 24th June, 12pm-12.45pm
Lunch & Learn with WSP
Friday 22nd July, 12pm-12.45pm

4th National Traffic Managers' Conference
Thursday 20th October
The Eastside Rooms, Birmingham