Live Labs Expo: Weds 1st Dec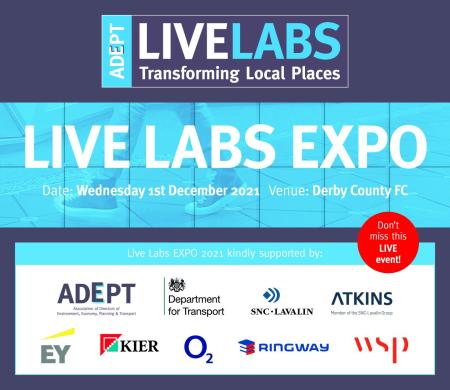 ADEPT SMART Places Live Labs Expo
Wednesday 1st December
Derby County Football Club
Join us to explore the progress and outcomes of the ADEPT SMART Places Live Labs programme.

Meet the Live Labs leads and the SMEs delivering innovation and technology to reshape highways asset management and improve quality of life for our residents.

Learn about:
Composite street lighting columns in Buckinghamshire
Renewable kinetic energy in Central Bedfordshire
Cumbria's waste plastic initiative to reduce the carbon footprint
Kent's innovative intelligent decision-making platform
Data-driven decision-making technology in Reading
E-scooters, living walls and fibre optics sensing in Staffordshire
The Suffolk highways services revolution, installing sensors at scale
Transport for West Midlands' data analytics and network resilience initiative
This event is free to all attendees. Thanks to our supporters: DfT, Atkins, Kier, Ringway, EY, O2 and WSP. The programme is here.
Note on Covid safety measures
Enhanced cleaning is still in place at the venue, with extra attention paid to high frequency touchpoints, and hand sanitiser provided for guests.
We will be asking all delegates to provide proof of full vaccination or a negative lateral flow test prior to attending.
---
Lunch & Learn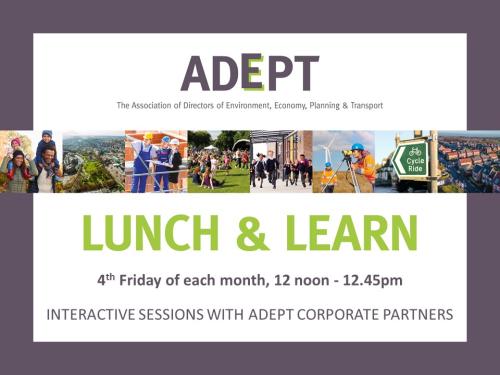 Lunch & Learn sessions take place on the 4th Friday of each month 12pm-12.45pm. Each Lunch & Learn is hosted by one of ADEPT's corporate partners. Get to know our members and partners better and learn about new innovations and opportunities. 
These sessions are for ADEPT members only. Please register using the link below - non-members will not be admitted.
26th November: Lunch & Learn with Colas

Decarbonisation | What does it really mean?
Discover more about the different scopes for carbon measurement and how this relates to the highways sector. The session will also explore the current rapid pace of change and bring an international perspective to broaden the perspective of decarbonisation before delving into some of the activities that have been undertaken in the UK. It will conclude with some practical next steps on how to start to tackle the decarbonisation journey.
There has been discussion on scope 1 & 2 and how we can reduce our carbon footprint within these, but what about scope 3 where it is more of a challenge? This session will examine scope 3 in more detail, what it means for the Highways sector, and what plans and actions we should be thinking about for the future.
28th January: Lunch & Learn with Costain
More information coming soon
---
SAVE THE DATE!
ADEPT Spring Conference and Annual President's Awards Dinner 
Thursday 26th May 2022
County Hall and One Whitehall Place