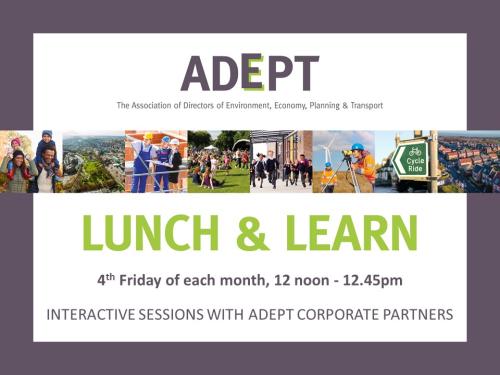 Lunch & Learn
Lunch & Learn sessions take place on the 4th Friday of each month 12pm-12.45pm. Each Lunch & Learn is hosted by one of ADEPT's corporate partners. Get to know our members and partners better and learn about new innovations and opportunities. 
These sessions are for ADEPT members only. Please register using the link below - non-members will not be admitted.  
Lunch & Learn with WSP
Friday 22nd July, 12pm-12.45pm
Delivering Clean Growth
Ashley Dunseath, Director of Development and Advisory, will talk about the work WSP is undertaking with the UK Business Council for Sustainable Development (UKBCSD) and Bradford Metropolitan District Council. The organisations have partnered with WSP to deliver local and regional clean growth through cross-sectoral collaboration. The collaboration seeks collectively to bring about strategic, outcome-focused, and place-based economic transformation.
Register here (ADEPT members and corporate partners only)
---
4th National Traffic Managers' Conference
Thursday 20th October
The Eastside Rooms, Birmingham
More information and draft programme coming soon.
Register for your free place here
---
Introducing Live Labs 2 – Decarbonising the local highways network
On 7th April the Department for Transport (DfT) announced the launch of Live Labs 2, with £30m of funding for a new three-year UK-wide programme.
Since then, ADEPT has been working closely with DfT to finalise the format for the new programme which aims to support the creation / maintenance of net zero highways and local roads.
We want to introduce the challenge and scope of Live Labs 2, and to 'market test' the programme approach with local highways authorities and their partners, before publishing the Live Labs 2 Prospectus and application details later this summer.
We are running in-person seminars across the UK at the end of June/beginning of July:
Tuesday 28th June - Birmingham
10:00-11:30
12:30-14:00
Register Birmingham
Friday 1st July - Cardiff
10:00-11:30
12:30-14:00
Register Cardiff
Monday 4th July - Glasgow
10:00-11:30
12:30-14:00
Register Glasgow
Wednesday 6th July - virtual
14:00-15:30
15:30-17:00 extra session added
Register virtual
Please click the relevant link above to book your place now.
In order to ensure as many people can attend as possible, please note we are limiting attendance to two representatives for a geographic area (i.e. one LA and one private sector partner).
Please note each seminar is run twice at each venue – you only need to register for one session.
---
SAVE THE DATE!
ADEPT Autumn Conference
Thursday 17th & Friday 18th November
Hilton Hotel, Leeds