ADEPT Membership
ADEPT leads as the voice of 'Place' Directors in upper tier local authorities across England. Along with directors of Local Enterprise Partnerships (LEPs), Combined Authorities, Sub-National Transport Bodies and corporate partners drawn from key service sectors ADEPT works to work collaborate effectively to create places that work for all.
ADEPT occupies a privileged position at the crucial interface between local authority, LEPs and central Government.
By joining ADEPT members will be part of a forward-looking, influential organisation with a strong national profile. We are already making an enormous impact.
Every day our members work to build successful local economies and sustainable communities. Through our unique system of technical working groups, subject and sub-national boards, ADEPT provides regular opportunities to contribute to research and development, examine new approaches and develop policy with colleagues from different professional backgrounds.
Priorities for the next 12 months include the Spending Review alongside the legislative changes following the UK's exit from the EU and implementation of various Government strategies including the Industrial Strategy, Clean Growth Strategy, 25 Year Environment Plan and Resources & Waste Strategy.
If you want to help influence and shape government policy and initiatives then read how to become an ADEPT member.
Where are our members from?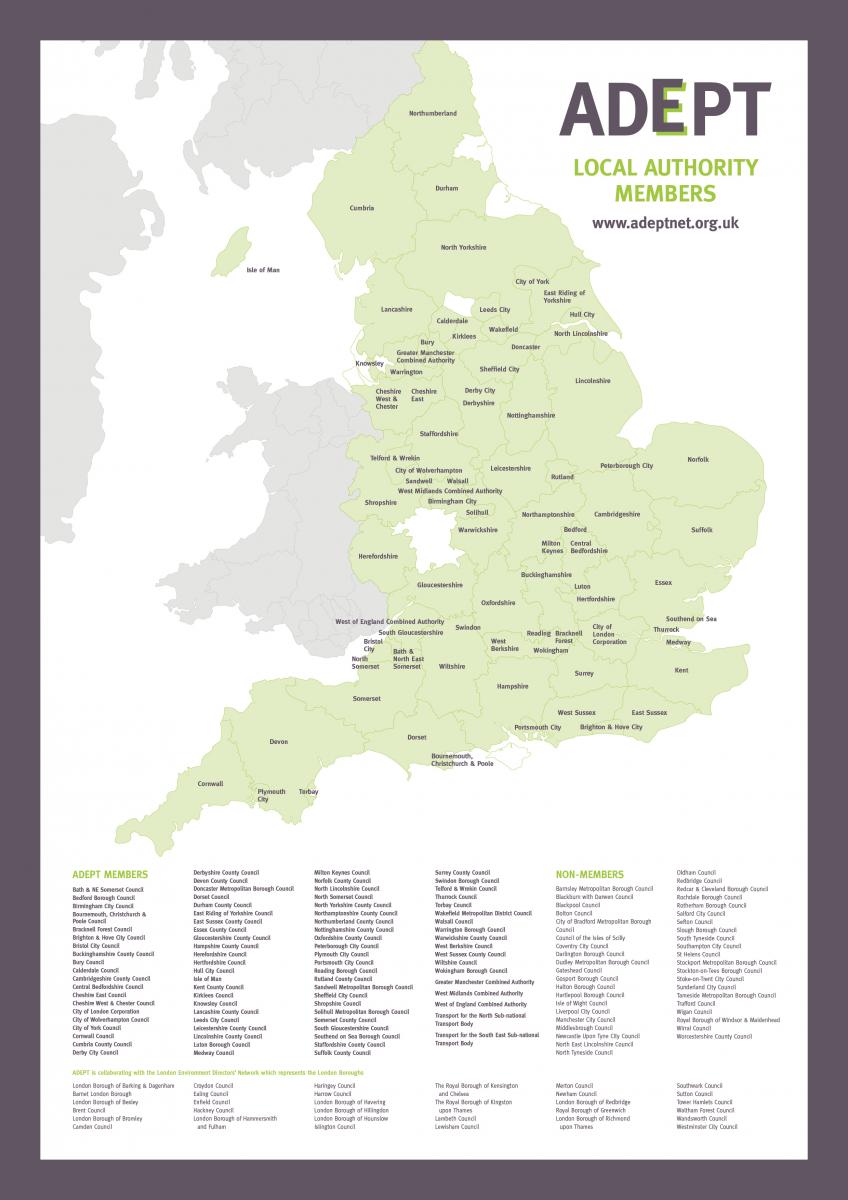 As you can see from the map we have a strong national profile and want to continue growing our membership to increase our influence and to achieve our vision to 2035. A full list of our current Local Authority, LEP and other associate members can be found here.
Did you know?
ADEPT members serve 36.9m people – that's two thirds of the English population and over half (56%) the population of the UK.


Over 14.7 million households rely on services provided by ADEPT members, which is almost two thirds of the households in England (63.3%).
It is estimated that ADEPT members spend almost £6bn serving our communities each year – the range of services includes housing, environmental and regulatory services, planning, development, culture, and highways and transport.
Almost 156,000 miles of road in England are managed by ADEPT members – that equates to just over 82% of England's total road length. Over £1.76 billion a year (estimated spend) is spent on highways and transport services.
ADEPT members collect almost 16 million tonnes of waste from households annually, and recycle or compost over 7.3 million tonnes.
ADEPT member authorities contribute approximately £897m to the economy each year.